Deciding which mixer has the best effects is a difficult task. There are many variables to consider, like what you will be using the mixer for, how many channels you require, and if you prefer better quality effects or a greater variety of effects.
The decision is difficult, but not impossible. Let's look at the variables and find a suitable mixer with the best effects to suit your personal needs.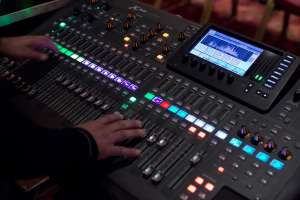 In terms of general effects quality, the Pioneer DJ DJM-750MK2 and DJM-900NXS2 are considered the mixers with the best effects overall, especially for DJs. Other excellent options, particularly for studios, include the Zoom LiveTrak L-20, Mackie ProFXv3, Yamaha MG10XU, and Behringer Xenyx X1204.
Each of these mixers can be considered the one with the best effects for particular usage scenarios. So before deciding, let's compare them based on their features and effects to see where they each genuinely shine.
Great Effects All-Around: Pioneer DJ DJM-750MK2 And 900NXS2
Pioneer is a great brand, trusted by millions for its exceptional sound quality. The fact that there's not just one but two Pioneer mixers that made it to this list of mixers with the best effects proves Pioneer's fantastic quality yet again.
Both of these mixers, the DJM-750MK2, and DJM-900NXS2, are focused primarily on the DJing industry (as proven by the fact that they are branded by the Pioneer subsidiary Pioneer DJ).
However, that doesn't mean that they are exclusively for DJing use. It simply means that they have specific functions that are particularly useful for DJs that others may never (or rarely) use.
Many consider the 900NXS2 (often pronounced as "Nexus 2") the ultimate mixer. It has Pioneer's near-immaculate sound quality and technical reliability, and it is feature-packed with more than most people will ever need.
In terms of effects, it has a great variety:
Six studio-quality sound color effects, including:

Sweep
Filter
Crush
Dub Echo
Noise
Space
Fourteen unique beat effects, including:

Delay
Echo
Ping Pong
Spiral
Trans
Filter
Phaser
Flanger
Pitch
Slip Roll
Roll
Vinyl Brake
Helix
Frequency Effects: Though these are not effects in themselves, it refers to the ability to apply effects to particular frequencies only. For example, you may choose to add echo to your vocals and double the rhythm of the hi-hats separately.
The 750MK2 is similar to its big brother in many ways but slightly scaled down. It has only four of the sound color effects and eleven of the beat effects. Apart from that, the quality is of the same standard, and you still get an excellent mixer for your money.
Speaking of money, the Pioneer DJ mixers are not cheap. The 900NXS2 retails at approximately $2,400, while you can find the 750MK2 for around $1,300.
However, both are very hard to find and are frequently out of stock due to their popularity. But they are often in stock at smaller music shops, and you can easily find a second-hand model in good condition.
Heavy-Duty Mixer With Effects: Zoom LiveTrak L-20
The Zoom LiveTrak L-20 does not compete with the Pioneer mixers, but not because it's worse; it's made for a completely different purpose.
Whereas the Pioneer mixers both have four channels, making them great for DJing or smaller home studios, the Zoom LiveTrak L-20 has twenty channels. It is intended for larger studios or live performances.
Zoom is known and renowned as a manufacturer of many kinds of audio equipment, but perhaps most famous for their digital guitar multi-effects pedals. These pedals range in size and variety, but many of the world's greatest guitarists use Zoom pedals to some extent.
So, when you're looking for a mixer with excellent effects, it makes sense that Zoom would have an advantage over the others. In terms of effects, the LiveTrak L-20 definitely delivers.
It is a digital mixer with twenty built-in chorus, reverb, and delay effects that you can apply on a per-channel basis over two dedicated output buses. The quality of the effects is exceptional, as can be expected from Zoom products.
The mixer is not cheap, though, but that is understandable with such a heavy-duty mixer. It retails for around $1,000 on Amazon and most music shops.
Plenty Of Effects: Mackie ProFXv3
Mackie is not one of those brands that are instantly recognizable. People don't often mention Mackie products in casual conversations.
Nobody (probably) ever said, "I want to buy the latest Mackie mixer when I win the lottery." But those who've used Mackie products know their value, and they will swear by their Mackie mixers.
The Mackie ProFXv3 is one of the top-rated and most popular mixers on Amazon for a reason. This budget-priced 10-channel pro mixer really packs a punch. Its sound quality is frankly astounding, especially at that price. You can record at 24-bit 192kHz quality.
But it really shows its value with some of its add-ons. It comes with 24 built-in reverb, chorus, and delay effects that are very high quality. But it also has a USB interface to connect it to a computer, with the Pro Tools software package for some advanced instrument-specific effects.
At a price of about $270 from Amazon and various other retailers, the Mackie is perfect for all except the most enormous studio requirements.
Mixer With Editable Effects: Yamaha MG10XU
Back to the recognizable brands, Yamaha needs absolutely no introduction. Known for more than just motorbikes, Yamaha is a well-known name in exceptional quality musical instruments and audio equipment.
The Yamaha MG10XU is an exceptional 10-channel mixer that has the built-in SPX suite with 24 editable digital effects that you can adjust as you desire. The effects include reverb, delay, and chorus, as well as phaser, flanger, tremolo, auto-wah, distortion, various pitch effects, and more.
The price is also unbelievably low for such an excellent piece of equipment. It retails for around $230 from Amazon and other retailers.
Best Budget Mixer With Great Effects: Behringer Xenyx X1204
The British musical giant, Behringer, should not be ignored with their offering of the Xenyx X1204 mixer. In true Behringer fashion, it's a reliable piece of tech with excellent sound quality.
It has twelve input channels, which is slightly more than most of the mixers on this list. The Xenyx X1204 also comes with sixteen editable, professional-grade effect presets that you can adjust to your heart's content.
They include the required reverb, delay, and chorus, as well as flanger, pitch-shifting, and multi-effects like distortion and wah.
All in all, at a price of only about $150, this is the cheapest mixer on this list, yet it sacrifices absolutely nothing in terms of effects- or sound quality. If you need an excellent mixer with brilliant effects without breaking the bank, the Behringer Xenyx X1204 might be the perfect mixer for you.
Conclusion
Not all mixers are created equal, and finding one with high-quality realistic effects can be a challenge, not to mention getting one that has everything else you need as well. This list of mixers with the best effects should help you find one that suits your needs and fits your budget.
You can learn about some of the best cheap mixers available here.
You can learn about spectral effects here.
You can learn about the difference between an audio interface and a mixer here.
References