An excellent audio mixer is absolutely essential for proper sound production. No studio, artist, or content producer should be without one.
The problem is that these devices can get very expensive, and the ones that don't cost a fortune can often do your sound quality more damage than good. But there are some excellent, cheap audio mixers, so let's look at (and compare) a few of them.
The best cheap audio mixer depends on your requirements, but the Samson MXP 124FX MixPad is hard to beat for overall performance vs. price. Other excellent options are the Mackie Mix12FX, Yamaha MG10XU, and the Phenyx Pro PTX-15. These are all powerful mixers for more than $100 less than others.
It's vital to get the absolute best audio quality possible, and unfortunately, the general rule seems to be that price often goes hand-in-hand with quality.
Thankfully that rule doesn't always apply, and these mixers offer excellent quality and add-on features at prices that are usually close to $200 less than other similar options. Let's compare their specs so you can decide for yourself.
---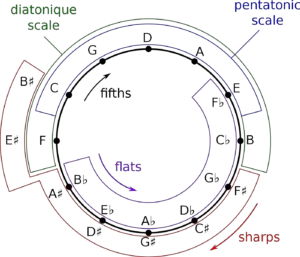 Keep track of all your music and notes in one convenient place!
Over 1000 sold to songwriters everywhere – with a 5-star rating.
---
The Bare Essentials Of A Cheap Audio Mixer
Your requirements for a cheap audio mixer will depend on what you want to use it for. You should look at a few vital features in any mixer, but not all of these will be equally important for your purposes.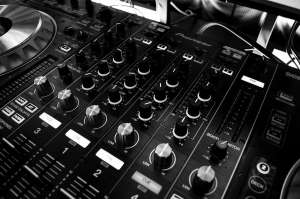 Maybe you only want a small mixer to record your podcast or one with many effects that you can adjust for outdoor live performances. We will now go through the different considerations when buying a cheap but good audio mixer.
The Mixer's Frame Size (Number Of Channels)
The frame size or the number of channels a mixer offers is possibly the most crucial aspect to consider. After all, a mixer's purpose is to take different inputs and mix them into a combined output that doesn't sound horrible. The number of channels you will need is a more complex question.
One or two channels should be sufficient if you are a podcaster or a streamer. You can use one input for your microphone and the other for background music or some other audio input. You probably won't require anything more than that.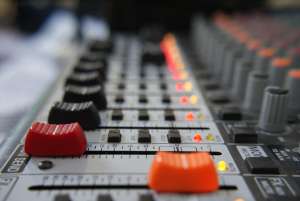 A home recording studio is a different matter. For example, just recording a small band requires at least one vocal channel, with one for guitar, one for bass guitar, and one for drums, so four channels in total. More advanced setups will require even more channels.
A four-channel audio mixer is usually sufficient and the most affordable for a beginner. You may have to combine a few channels in some creative ways.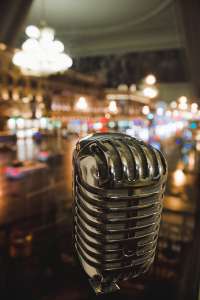 Still, it's generally possible to do quite a lot using only four channels, especially if you have some effects pedals for some instruments so you can control their inputs separately before combining them with others.
Auxiliary Outputs
Auxiliary outputs, or "aux buses," are mainly used to connect monitors, both the speaker and in-ear types. You can generally send the output from one or more channels to any particular aux bus so someone on-stage can hear themselves playing or singing.
Auxiliary outputs are usually mono, so if someone needs a stereo monitor, you will have to use up two aux buses for that.
Aux buses are not generally crucial components for most beginners and are not a massive priority in budget mixers. You may get one or two aux buses in a cheap audio mixer, but you have to ask yourself if you will really need them for your purposes.
Digital Or Analog Audio Mixers
Mixers come in two primary flavors: analog and digital. Analog mixers use electrical signals to process sound, while digital mixers convert the signals into bits of data that are processed through processing chips, similar to how a computer works.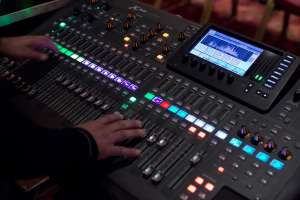 Many people prefer analog mixers, and they have the added advantage of being more affordable. Hard-core fanatics also insist that analog mixers offer better quality sound. But there's generally more that you can do with a digital mixer since it has its own built-in computer that can process audio in many more ways.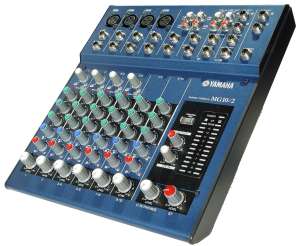 The best cheap audio mixers are, almost without exception, analog. The processing components of digital audio mixers are simply too expensive to manufacture, essentially removing them from the "cheap" part of the equation altogether.
Built-In Signal Processing
Mixers should have at least some basic signal processing built in. A mixer that only adjusts the volume for each channel would be cheap but requires more external components to get the sound that you're looking for.
Digital mixers tend to have the most signal processing options, but good analog mixers should have at least reverb and delay effects for each channel.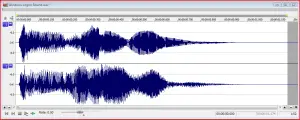 Those are the four essential parts to look out for in any cheap mixer, and you should now have an idea of what you're looking for based on your particular needs. Now let's get down to the best cheap audio mixers.
The Best Cheap Audio Mixers Available
Four cheap audio mixers stand out above the crowd. Note that these are not the only cheap mixers out there, but if you want a great mixer at a low price, one of these should fit your purposes (and your wallet) nicely.
All-Round Best Cheap Mixer: Samson MixPad MXP124FX
Regarding budget mixers, the Samson MixPad MXP124FX stands out as probably the best value for money in a cheap but powerful mixer. It is compact and includes USB connectivity, but that's not even scratching the surface of how fantastic this mixer is.
It weighs in at 5.4 pounds and measures only 12.94 x 11.07 x 3 inches. This mixer is perfect to be set up permanently in a home studio or carried with you to live shows or gigs.
It has twelve (yes, twelve!) input channels. The channels are controlled using five sliders. It has four dedicated microphone or line-in channels that come with professional-grade microphone pre-amps.
It is an analog mixer, but despite that fact, it includes 99 digital effects that can be manually controlled for each channel using FX-level controls. There's even onboard phantom power for those devices that require it.
You can get this mixer for approximately $180 on Amazon, and it really is incredible value for money. With a 4.4-star rating, you know that you can't go wrong. But what do the users say?
Overall, 74% of users gave the Samson MixPad a 5-star rating. The reviews all say that it's an incredible device for the price range. Though it is priced at entry-level, it has professional features and excellent quality.
Some even came back to edit their reviews after a few months to emphasize how impressed they still are with the product.
But the complaints, though few and far between, are crucial to look at to get a balanced perspective. The main complaints, and potential pitfalls to look out for, are:
The mixer doesn't support 3.5mm microphone jacks, and apparently, standard XLR or ¼" adapters for 3.5mm jacks don't work well. So first, check that you have the right cables and connectors ready before you buy this mixer.
Support seems to be lacking. In the event that you are one of the (very few) unlucky people to get a faulty unit, you may have some trouble getting support from Samson. Still, if you buy it from a reputable retailer, they should be able to provide proper support.
Since the mixer isn't purely analog and includes digital effects, some claim that the audio quality isn't as pure as they would prefer. Keep in mind that this is a common complaint in the digital vs. analog debate when it comes to mixers and is not unique to the Samson MixPad.
The effects aren't as great as they could be. Keep in mind that this is a budget mixer, so you can't expect the absolute best effects possible. But if you find that the effects are lacking, you can easily connect your mixer with a PC through USB and add effects through Audacity or other music production software.
Runner-Up: Mackie Mix12FX Audio Mixer
The Mackie Mix12FX audio mixer is almost as good as the Samson and at a slightly lower price. It has many similar features and is more or less the same size as the Samson, but it's slightly heavier at 6.5 pounds.
The Mackie also has an excellent 12 channels and built-in effects. It is incredible value for money since you can get it for only ±$160 from Amazon. There are a few things that are different (though not necessarily worse) about the Mackie when compared to the Samson that you should be aware of:
No USB output The Mackie XLR connectors for input and output, so connecting it with a computer isn't as convenient as with the Samson.
It has only twelve effects, not 99, but according to users, these twelve effects (including reverb, chorus, and delay) are of excellent quality.
The Mackie comes in a bundle with cables, adapters, connectors, and even a microfiber cloth and cable ties. It is slightly superior to the Samson in this regard since the Samson doesn't even include the specific USB cable it requires.
The Mackie Mix12FX has a 4.6-star rating on Amazon; notably, there are no 1-star or 2-star ratings. The closest is one 3-star rating because the sound can be slightly muddled on high-range and mid-range frequencies in some situations.
Overall, the Mackie is an excellent piece of equipment at a very low price!
Less "Cheap," More "Best:" Yamaha MG10XU Mixer
Yamaha needs no introduction to anyone who knows anything about audio production. It is one of the most well-known brands and has earned its place in the music equipment hall of fame due to its excellent quality, and the Yamaha MG10XU audio mixer is no exception.
The Yamaha would probably have been the number one choice for someone who's only looking at the brand, but it is a bit more expensive (approximately $230 on Amazon) and doesn't have quite as many features as the Samson or the Mackie.
The MG10XU has ten input channels, which despite being less than the twelve of the Samson and the Mackie, is still an excellent number to work with. The mixer is also a bit bigger but much lighter, mainly because it is fully digital.
It includes USB connectivity, pre-amps for microphones, 24 effects, and built-in compressors that offer high-quality audio with crisper, clearer sound.
The 4.6-star rating on Amazon proves its worth, but there are some complaints as well. Most of the user complaints have to do with a lack of customer support from Yamaha.
However, a few people claim the audio quality wasn't what you would expect or that the device stopped working or connecting to their computers after two years.
Keep in mind that these negative reviews make up less than 4% of the total reviews on Amazon, with 80% of people giving it a 5-star rating.
The Cheapest Good Audio Mixer: Phenyx Pro PTX-15
The Phenyx Pro PTX-15 is the perfect audio mixer for someone looking for something that will do the job "well enough" without costing them too much. It is the cheapest on this list by far, costing only around $130 on Amazon, but it is surprisingly good for the low price.
The Phenix only has four input channels, so keep that in mind; it is one of the factors that made it reach the bottom of this list. Each channel has its own 3-band EQ, though, so adding warmth and character to each channel separately is very easy to do. There are also 16 DSP effects that you can add.
It also has USB connectivity, both for audio playback and recording to a computer. But a nice little bonus is that it also includes Bluetooth, though that is only for playing music, and you cannot use the Bluetooth and USB simultaneously.
The Phenyx Pro has a 4.2-star rating on Amazon, which is far from terrible especially considering that 78% of those ratings are 5-star and 4-star.
The complaints mainly deal with audio quality being lower than expected. According to some of the users, there is some background noise whenever you connect a microphone, and the mixer's volume doesn't go very high.
The effects are also not impressive and offer only basic enhancements. It is said not to be so much a professional mixer but good enough for small performances and shows.
Most people agree that, considering the price, it's worth living with the Phenyx's quirks if you don't want to spend more than its very low price. It is still an excellent product, and support is very easy to get since the company is based in the United States.
Conclusion
Overall, the best cheap audio mixer is, without a doubt, the Samson MixPad MXP124FX. It costs only $50 more than the most inexpensive mixer on this list, and with its sheer number of features, it deserves to be number one.
But you know your requirements and budget, and you now have four excellent options that can cater to your needs without leaving you in poverty.
You can learn about the difference between an audio interface and a mixer here.
References
http://www.samsontech.com/samson/products/mixers/mixpad-mxp-series/mxp124fx/