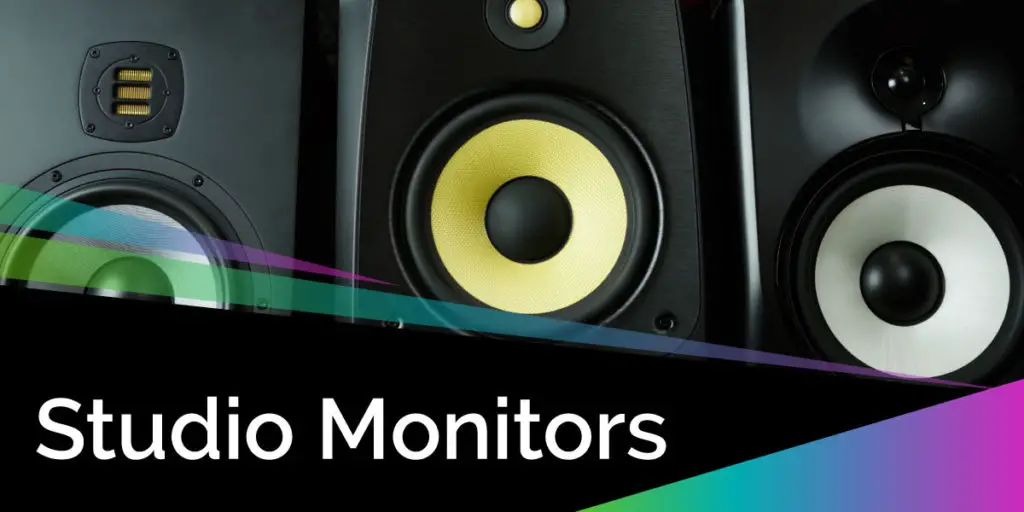 Overview
Studio monitors are speakers that have been designed and tailor-made for critical listening that are used in home and professional studios. They are used for referencing audio in a professional and home studio environment.
The main difference between these speakers and your other home theatre entertainment speakers is that they are built specifically with key features such as near filed listening, onboard power amplification, and a flat response.
The better the studio monitors' response, the more likely they are not to give any boosts or cuts to specific frequencies. This is why you pay so much for them when compared to other "ordinary" speakers.
I've laid out the reasons why studio monitors can range from very cheap to ultra-expensive.
Brand
Besides paying for all the features studio monitors have over your average speaker, you also pay for the brand. As with anything in this world, because a manufacturer is well known in an industry, they can charge whatever they want for their products.
Brands are built on a two-part factor. The first being they are established in the community in which they sell their products so people will tend to buy from them more which we have discussed.
Then the 2nd factor is that they are established because their products are of high quality. hence, that being the reason they are well known and people tend to lean towards them without any prior knowledge of a product.
Research and development
Manufacturers spend millions on R&D learning implementing the cutting edge of new technology and high-quality components. When you purchase studio monitors, you are guaranteed that thousands of hours have been spent looking into and researching the design, layout, components, and manufacturing of those monitors.
They test everything from room compensation, flat response, near-field listening, watts, and impedance capacity. Not to mention, they test hundreds of components against, and with each other to get these aspects and features to a professional level.
Components
In trying to build high-quality audio gear, manufacturers use the highest quality of components that make up and build their monitors, from wood that resonates in a specific way to certain frequencies, to the transducers and wires that make up the monitors' internal workings.
All the components that makeup studio monitors are of the highest grade quality.
Let's take a look at some of the best studio monitors on the market that you can get for your budget. I've categorized them from high-quality budget options to mid-range priced options, to the high-end, best of the best your money can buy.
High-quality "Budget" studio monitors under $200
Here are my top 5 budget options that'll give you the best bang for your buck:
High-quality "Mid-Range" studio monitors under $400
Now let's take a look at our top 5 mid-range priced studio monitors. These monitors are higher in quality than the budget options we just went through, of course, but these still offer amazing value for the money you spend on them.
"High-End" studio monitors
Now let's take a look at 3 of the best studio monitors on the market that your money can buy.