Rubber vs. mesh kits is a question that is asked time and time again by new drummers and drummers wishing to purchase their first electronic kit. Both rubber and mesh have their pros and cons, but which comes out on top when you compare them to each other? Let's find out.
Mesh kits are better in terms of feel, sensitivity, and versatility compared to rubber kits. This is because mesh kits simulate acoustic kits better. They are adjustable in terms of tension, have similar rebound characteristics to acoustic kits, and can even simulate brush sweeps.
If you once and for all want to find out what the differences are between mesh and rubber electronic kits are and which is better, this article will cover it all. Besides that, we will compare them with each other and list our favorite electronic kit that surpasses your expectations of what an electronic kit should be.
Let's get started.
Which Drums Are Better: Mesh Or Rubber?
Mesh heads are better when it comes to simulating the feel of an acoustic kit. Due to the technology that is being implemented with mesh heads, they are more versatile and sensitive.
This means that mesh heads offer more in the way of sound responses based on the location where you hit (strike with the stick).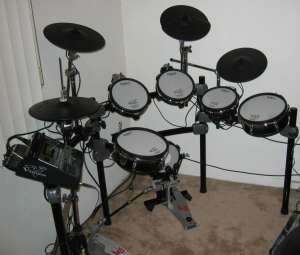 However, rubber heads are smaller and more robust than mesh heads. This makes them more practical in terms of live performances, since they don't get damaged so easily.
You will have to take into consideration preference and play style because it will boil down to those two factors when trying to choose between mesh and rubber heads.
The table below summarizes a comparison between rubber & mesh electronic drums.
Drum
Type
Rubber
Drums
Mesh
Drums
Drum
Pad
Size
Smaller
diameter
&
thinner
pads are
easier to
transport.
Hybrid kit
possible.
Larger
diameter
&
thicker
pads are
closer in
size to
acoustic.
Drum
Pad
Feel
Feels more
like practice
pads. The
tension is
not
adjustable.
Tension is
adjustable
to give
more or
less of a
bounce.
Drum
Pad
Versatility
Less
versatile
& less
sensitive.
More
versatile
& more
sensitive.
Some can
simulate
brush
sweeps.
Drum
Pad
Price
More
affordable.
More
expensive.
Can set up
with MIDI.
This table summarizes a comparison between
rubber & mesh electronic drums.
What Is The Difference Between Rubber & Mesh Electronic Drums?
The difference between mesh and rubber electronic drums lay within the design of each, their materials, and how they are manufactured. Moreover, depending on the kit, mesh drums may have better functionality in terms of being able to strike the pads in different positions to produce different sounds.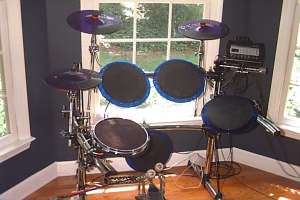 Below, we will go over all the different and similar characteristics when the two are compared to each other, including:
Drum Pad Sizes (Rubber pads are smaller and thinner)
Drum Pad Feel (Rubber pads feel more like practice pads, while mesh pads are adjustable)
Drum Pad Versatility (Mesh pads are more versatile and sensitive)
Drum Pad Pricing (Rubber pads are cheaper than mesh pads)
Let's start with drum pad sizes.
What Is The Difference Between Rubber & Mesh Pad Sizes?
Rubber pads offer you the smallest option when it comes to the size of electronic drum pads. As it stands, acoustic kits will have the largest pieces of equipment (toms, snare, cymbals, sets), mesh heads for electronic kits will be slightly smaller, and rubber pads will be the smallest.
Not only will rubber pads be smaller when it comes to the diameter of the pads, but they will also be much thinner when compared to mesh and acoustic kits.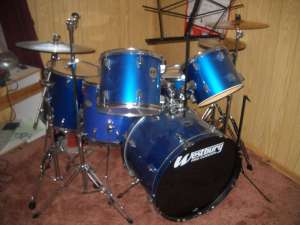 Having thin pads could be very beneficial if you are a drummer who constantly gigs and is suffering when trying to transport your large kit around. Smaller, thinner drum sets are much easier to transport and less likely to get banged up when you move them.
Electronic rubber kits (although they won't have the same feel as mesh or acoustic) are very robust and can take a lot of abuse on the road. This means that you don't have to worry about them getting damaged and having to replace them.
Check out my article here, where I go over how to transport electronic drums in the best and safest way possible when it comes to your car, SUV, and trailer.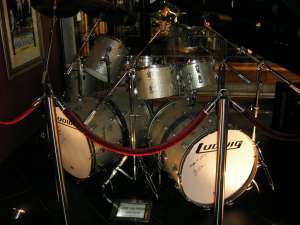 Moreover, rubber pads will allow you to set up a hybrid kit. This is where you will have a combination of an acoustic and electronic kit.
Rubber pads make it easy for you to slot them in almost anywhere in terms of space around your acoustic kit, while mesh heads will be much larger, and thus you might not be able to fit them in where they need to be.
Mesh heads, when compared to acoustic heads, are very similar when it comes to size. This is so that you can get that acoustic "feel" more so than on a rubber pad.
What Is The Difference Between Rubber & Mesh Pad Feel?
When considering the feel of rubber heads, they are practically identical to practice pads. Practice pads require you to alter the way you play slightly in terms of dynamics.
Remember that dynamics is how hard or soft you hit. Furthermore, every rubber pad will have the exact same rebound characteristics. This is how the stick will bounce off the pad when you hit it.
This is because rubber heads are not adjustable in terms of tightening or loosening their tension like mesh or acoustic kits are.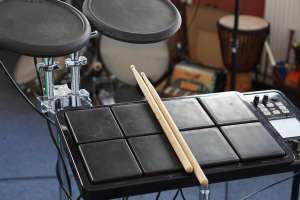 Hence mesh pads give you more of that "acoustic feel" when you hit them. This is due to you being able to adjust the tension of the mesh pads, as we said. This means that you can adjust the tension of the heads to give you more or less of a bounce when the stick strikes it.
Feel is the factor that many drummers will consider when comparing the two, but they should consider the purpose of the kit. Remember that many drummers use a practice pad for practicing purposes, and they like the feel of rubber pads.
Moreover, every rubber pad will have the same feel, so you won't have to adjust your technique when moving from pad to pad.
What Is The Difference Between Rubber & Mesh Pads Versatility?
Mesh pads offer way more in terms of versatility and sensitivity when compared to rubber pads. Rubber pads, due to their design, offer a limited response when the pad is struck. You do get rubber pads that can compensate for dynamics.
This means when you hit the pad soft or hard, the appropriate sample will play. However, mesh pads offer sound responses in terms of where the pad is struck.
This means not only can they tell if you strike the pad hard or softly, but also, depending on where you stick the pad, a different sample (sound) will play. The technology for mesh pads is so advanced that some kits even offer you sound modules that let you simulate brush sweeps.
What Is The Difference Between Rubber & Mesh Pads Pricing?
Rubber pads are by far much cheaper than mesh pads due to the various factors we discussed above and due to the fact that they are generally cheaper to produce.
Take note that because mesh kits simulate acoustic kits to such a degree and what you are able to do with them, they have been known to cost almost as much (if not the same) as professional acoustic kits.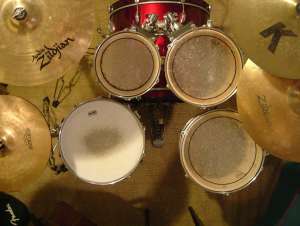 Remember that mesh kits simulate acoustic kits in terms of feel. Since they are electronic, you can set them up with a MIDI, and a new world of possibilities will open up to you in terms of sounds and samples.
In essence, you can not only play traditional drum sounds from them, but you can use them as a MIDI controller.
Take note that you can do the same with rubber kits if they have MIDI capability but mesh kits have more versatility meaning you can assign many more functions to the kit.
Best Mesh Electronic Drum Kit
We stand by our recommendation that rubber kits are better for live performances because they are more robust.
We found a mesh kit that is built like a tank, and if you are looking to purchase an electronic kit for any purpose, then you should consider our recommendation below.
Roland TD-17VX-S
This kit is built like a tank and offers everything you will need for live and studio applications. It has naturally rich and dynamic drum sounds that it inherited for Roland's flagship TD-50 sound engine.
This 9 piece mesh electronic kit comes with a mesh snare, three mesh tomes, three crash cymbals, VH-10 hats, a learner expressive foot control pedal, and Roland's signature KD-10 kick pad.
It features customizable presets, 50 premium drum kits, free downloadable software (Melodics for V-Drums), MIDI, and line-out capabilities.
Setting up or breaking down this kit has never been easier because the drum stand features either the MDS-4KVX or MDS-Compact rack, depending on what you choose. These stands are specifically designed with convenience and size in mind.
Check out the TD-17VX-S on Amazon.
out of stock
as of November 15, 2023 10:26 pm
Conclusion
We discovered that mesh heads are, in fact, much better than rubber heads when it comes to electronic drum kits.
However, rubber kits might offer a more practical solution if you are looking for an electronic kit to play live. This is because they are more sturdy and smaller, offering you more in the way of easier transportation and longevity (life-span) of the kit.
If you are not worried about easier transportation or the toughness of the drums, then without a doubt, mesh kits surpass rubber in almost all ways. They are better in terms of feel, offering you a more "acoustic feel" because their tension is able to be adjusted.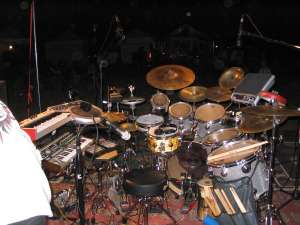 Moreover, the technology and material used in manufacturing mesh heads are more advanced than rubber kits. By sticking the mesh pads in different positions, you are able to produce different sounds (even brush sweeps).
Hence, at the end of the day, if you are not worried about transporting your kit and are looking for the best in terms of feel, versatility, and sensitivity, then mesh kits are the way to go.
Wondering about whether you should record drums last? Read this article to find out.
Do you need a mixer to record drums? Find out here.
Source list
Rubber Pads vs. Mesh Drum Heads – Which are Better?
RUBBER DRUM PADS VS. MESH DRUM PADS