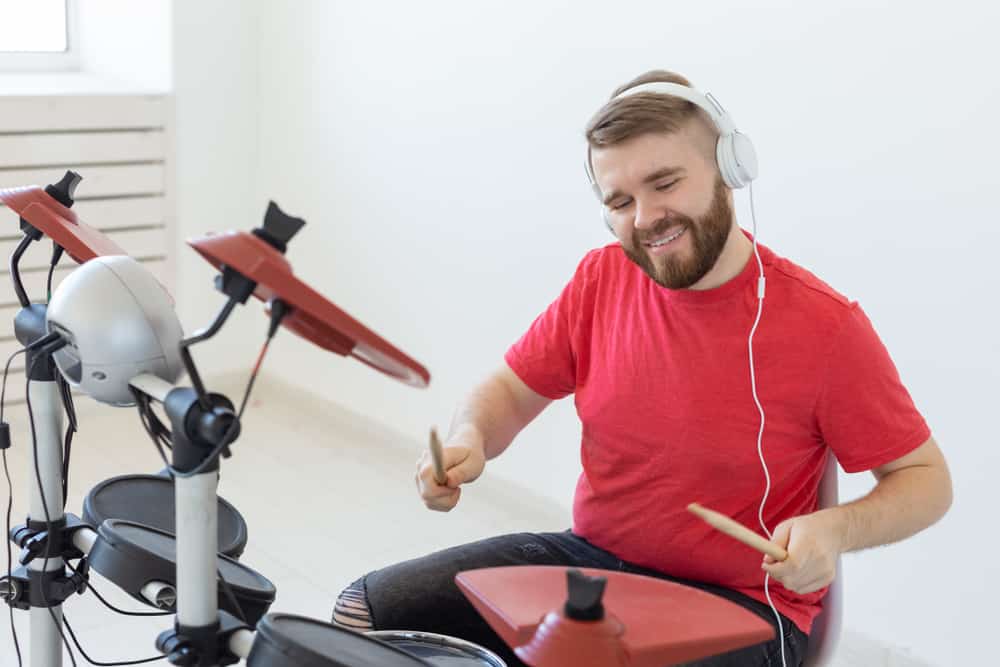 The discussion on this topic is often a heated one depending on who is involved. Are electronic drums good to learn on? Seasoned pros might stick to acoustic kits as their go-to drum set and would never consider anything else. However, electronic kits offer more than you would expect them to have. Let's find out what that is.
Electronic drums are fantastic to learn on. An electronic drum set with both rubber and mesh heads will offer both the feel of acoustic kits mixed with the feel of rubber practice pads. Other features include many learning capabilities in exercises, songs, lessons, and tons of sounds and samples.
If you are looking to take up drums and don't know if electronic drum kits are that good, if you can learn to play drums with them and consider, you have come to the right place. We will cover in-depth why electronic drums are great to learn on and why beginners should consider them.
Are electronic drums good to learn on?
Electronic drums are great to learn on. Not only do they provide the exact same feel and principles (dynamics, stick technique, etc.) as traditional practice pads and acoustic kits depending, but the drum modules that come with electronic kits give you so much versatility in terms of sounds, samples, and learning capabilities.
Take note that rubber electronic drum kits are similar to practice pads, while mesh kits are similar to acoustic kits. We will discuss the two types below but if you are wondering which is better, then check out my article here, where I go over the similarities and differences between rubber and mesh electronic kits to figure out which is best.
Most electronic drum modules come with tons of drum sounds, kits, songs, a metronome, headphone jack, and MIDI connection points. This means that not only will you learn to play drums, but if you are looking to enhance your home studio capabilities, then it is a must-have.
Most individuals worry that the drumming technique used on electronic kits is too different from acoustic kits, so they should not consider electronic drum kits for learning.
It is true that acoustic kits have a completely different feel to rubber kits. However, mesh kits are adjustable in terms of tightening or loosening their tension. This means you can adjust the head's "snappiness" to be more like an acoustic head.
Then rubber electronic kits feel precisely the same as standard rubber practice pads, which drummers with acoustic kits use to practice on. Thus there is nothing wrong with learning on an electronic drum set.
Are electronic drums good for beginners?
Electronic drums are amazing for beginners due to several reasons. Beginners are able to practice their drumming technique perfectly on rubber or mesh kits. They can play and change the drum sounds that you could otherwise not do with an acoustic kit. Moreover, electronic drums typically have a ton of features that can help beginners learn and improve, like songs, lessons, a metronome, and more.
Below we have broken down all the crucial factors regarding why electronic drums are a great choice for beginners and parents looking to get their childer their first drum set.
Noise and electronic drums for beginners
Acoustic kits are loud, while electronic kits only allow you to hear sounds through headphones or while plugged into a PA or some other piece of equipment that can utilize a line-out or MIDI connection. This means that beginners can play at any time of the day or night while not disturbing anybody.
Technique and electronic drums for beginners
Although both mesh and rubber electronic kits can simulate practice pads and acoustic kits fairly well, there are two drawbacks. The first is that electronic kits will never replace acoustic kits, and the technique sued to play each is different. This means a beginner will need to practice their drumming technique on an acoustic kit whenever they get a chance. This is because even though electronic kits are getting ever more popular, acoustic kits are regarded as the staple for any professional application.
The next thing to think about is that you are not able to use anything besides drumsticks on an electronic kit. This means that the use of brushes, mallets, and anything else is not viable. This means experience in using these other pieces of equipment is basically taken down to zero.
Once again a beginner would have to find an acoustic kit and these accessories to practice with. However, one thing to note is that mesh kits simulate acoustic kits very well in terms of technique and feel. Hence, if beginners use a mesh kit or a combination of mesh and rubber, they will not need to worry.
Check out this beginner mesh electronic drum set on Amazon.
Tunning and electronic drums for beginners
Many individuals don't know this, but drums need to be tuned, as with most instruments. Many beginners find this difficult and have their drumming instructors help them with it initially until they learn to do it themselves.
Electronic drums do not come with this problem. Every drum sound and sample is stored in the drum module and plays back every time a piece of the kit is struck. This means that there is no tuning necessary ever on an electronic kit because all the sounds are recorded and stored.
Beneficial features of electronic drums for beginners
We touched on how electronic drum kits come with modules that have tons of sounds, songs, kit sounds, and more. Furthermore, the sounds don't necessarily only include drum sounds but also other percussive instrument sounds and even other instrument sounds.
This means that beginners can change the sounds of their pads, giving them a better understanding of other instruments if they could use them in their style of play and get their creativity going.
Another feature is the ability to help you with songs. Many kits will have some of your favorite number one hit songs that you can play along with. Some even have accompanying video lessons or tutorials for you to follow along with.
Other features for electronic drums include the drum module having warm-up exercises and endurance tests having you work on your rudiments.
Check out this electronic kit with tons of features on Amazon.
Price of electronic drums for beginners
The great thing about electronic kits is that you can get reasonably good ones for a couple of hundred dollars. Acoustic kits can vary in price, and you are able to get beginner acoustic kits for a couple of hundred dollars. However, the sound from a beginner kit is all that often not that great.
At least with an electronic drum set, you have the choice between many different kits, sounds, and even other instruments. Not to mention all the other beneficial features we discussed.
Check out this fantastic beginner electronic kit on Amazon.
Conclusion
We discovered that, indeed, electronic kits are a great option when it comes to learning to play the drums. Both rubber and mesh kits have their pros and cons; however, you do get a blend of both, and those kits offer both the versatility of an electronic kit while having the feel of an electric kit.
We also found out that beginners could greatly benefit from an electronic kit, either mesh or rubber. Not concerning feel or technique, both rubber and mesh offer more features than an acoustic kit like no noise, learning capabilities, different sounds, samples, and connectivity options.
This means that beginners have more versatility and are able to learn and grow, if we dare say, at a faster pace, than individuals who try to learn on a raggedy beginners kit.
Source list