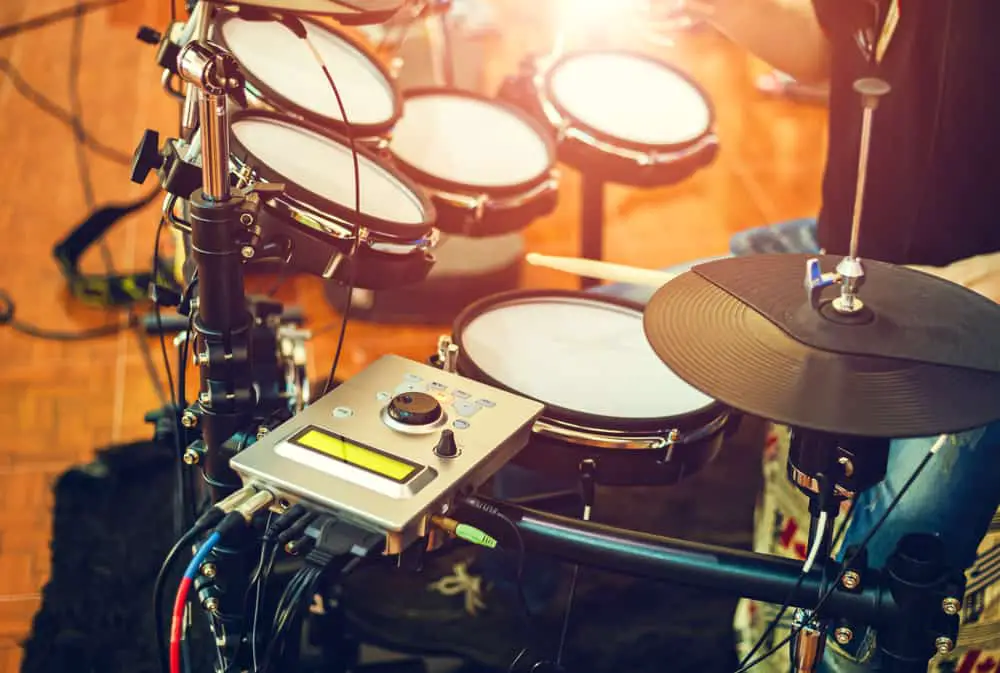 Electronic drum kits have evolved from what they first started out as, but many drummers still opt to use an acoustic kit for live performances and to gig because they think the same results cant be achieved using an electronic kit. Let's find out.
You can gig with an electronic drum kit. You will choose to connect it to the PA via the stereo output (mini-jack or 1/4 inch) or via an audio interface into a DAW with MIDI cables. The size of the kit can vary, and you should opt for rubber pads because they are more robust.
If you are a drummer wanting to know about electronic kits and live situations specifically pertaining to how they would work, how to connect them up, and if you can use them, then this article is just for you. We will go over in detail the various ways to set up an electronic kit in a live situation, how you would do so, what you would need.
Can you gig with an electronic drumkit?
The short answer is yes, of course, you can use an electronic drum kit live. However, you do need to understand that you will always be hooking it up to a PA. This means in any situation where you cant run your kit through a sound system; it will be a no-go.
You must remember even if you are connecting your electronic kit up to a laptop or anything else; it will still need to run through a PA or some sort of sound system.
How do I connect up my electronic drumkit live?
There are two ways to connect up your electronic kit live. The first method is where you plug directly into the mixing desk using the line-out of your kit and a channel on the desk.
All electronic kits have some form of a line-out. Either you will have a headphone mini-jack or a standard 1/4 inch jack connection point. If your kit only comes with a headphone mini jack, you will need to get an adapter or a mini-jack to 1/4 inch jack converter cable.
Remember that your electronic kit has stereo outputs, so you will only need to run one cable into one channel on your desk.
Check out this mini-jack to jack converter cable on Amazon.
Check out this mini-jack to Jack adapter on Amazon.
The next way you can connect up your electronic kit is through your laptop using an audio interface and a DAW. Depending on your knowledge of home studio equipment, your DAW, and plugins, this could be a very cool option to run through.
There are many benefits from running your kit into an audio interface and then to your laptop, such as having tons of sounds and samples to choose from. You could essentially just run your kit through the audio interface and then into the mixing desk. All you would do there is send the outs from your interface into two channels on the desk and pan accordingly if needed.
However, using it with a DAW can open up a new world of possibilities, and you may even want to look at maybe getting a drum pad. Using a DAW and other plugins would give you limitless options for sounds and samples, as we said, and along with any other MIDI controller, could be game-changing for your act.
Take note, though, that if you are connecting up to your audio interface and want to use your DAW, you are going to have to be using your MIDI connections output on your kit, and your audio interface will need MIDI inputs. Otherwise, this is not possible.
Remember, you won't be able to use sounds or samples if you connect to your interface with an audio cable because the audio is sending audio while MIDI is sending data.
Check out this audio interface that comes with MIDI and Ableton (DAW) on Amazon.
Which drum sound should I use when playing live?
There is no one specific sound that is going to work for all occasions. Furthermore, the sound you use will be determined by preference and what style of music you are playing.
If you are using a DAW, you will have drum sounds to choose from and any other sounds or samples you have available. NOt to mention you will be able to separate channels for your kit and will be able to mix and adjust them.
For the most part, if you are looking to connect just with an audio cable, then the mixing of your kit will be limited because remember you are only going into one channel on the desk, and adjusting any EQ on that channel will affect the entire kit sound.
How many pieces should my live electronic drum kit be?
This again will depend on the type of music you are playing and what you are looking to achieve. However, a simple electronic kit that is robust will be your best option.
You will only need the basics, which means a 5 to 7 piece electronic kit will suffice; unless you plan to play in a stadium, it's best to bling it out for the status.
Remember that you will need your snare, hats, toms, one cymbal (at least), and your kick.
What type of electronic kit should I use for live performances?
Due to the fact that you are going to be gigging with your electronic kit, it is best to get something small and sturdy. As we said, a 5 – 7 piece electronic kit will suffice, and you should opt to get a kit with rubber pads because overall, they will just last longer.
You might hate playing on them but just think of it as the same as a practice pad. Mesh kits are larger, and you will need to be careful with them.
Electronic kits with rubber pads won't mind if you drop them, or they get bumped every now and then.
Check out this electronic rubber pad kit on Amazon.
Do professional drummers use electronic kits live?
If you think that the pros don't use electronic kits, then you would be wrong. Many over the years have used them in the studio and for live applications.
Take note that technology today is not what it was and what you can achieve with electronic kits nowadays was just not possible even 15 years ago, but you and many pros are able to get top-quality sound from electronic kits in all situations, especially if you are running through an audio interface and a DAW separating the drum channels, mixing and placing effects.
Here is a list of some of the pros who have used electronic kits for live and studio purposes.
Phill Collins
Roger Taylor (Duran Duran)
Rick Allen (Def Leppard)
Neil Peart (Rush)
Josh Dun (Twenty One Pilots)
Danny Carey (Tool)
Tony Roster Jr
Akira Jumbo (Casiopea)
Wil Calhoun (Living Colour)
Ben Barter
Conclusion
We discovered that, of course, you are able to use an electronic drum kit if you intend to play live. You will only need to consider a couple of factors when doing so, however.
You will need to consider how to hook it up, and you will need to always hook it up to a PA or some sort of sound system.
You can connect your kit up in two ways. Technically, there are three, but it makes sense to run it through a DAW if you are using an audio interface, so the method by which you connect up the kit to the interface and desk without the DAW is not really a go-to option, but you can do it.
We just stated that one way was with an audio interface and DAW, and then the other is simply to run it through the desk via the line outputs of your kit.
Take note that however you connect up your electronic drum kit, you will need the appropriate cables and any other accessories, but it is something you should look at investing in because playing live with one can open up a new world of possibilities to you and how you play.
You can learn more about the differences between rubber and mesh drum kits here.
Source list