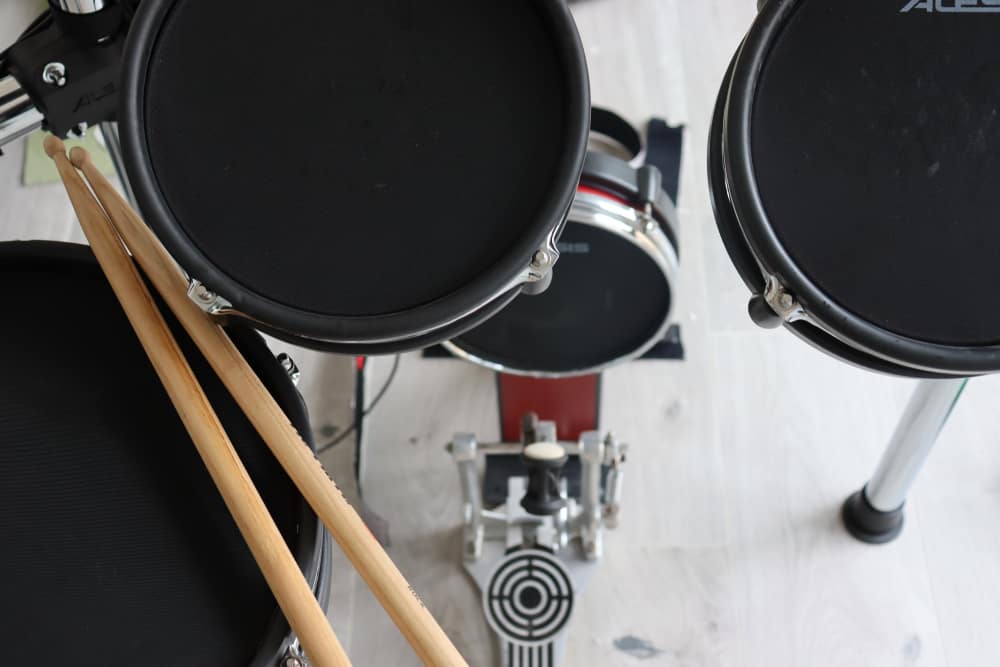 Transporting drums is one of those situations that drummers hate. Luckily, with electronic drums' invention, this has become much more straightforward, and it only takes a couple of minutes. However, if you don't know the correct method of packing them up, you may find yourself taking as much time as with an acoustic kit.
You would first disconnect your hat pedal, kick pedal, and kick pad to transport electronic drums. Place all your accessories into a carry bag (drum module sticks, cables, headphones, etc.). Then adjust the height settings of your toms so that the floor tom is beneath the snare and the other toms are above it. Then fold your kit into a triangle shape.
If you are unsure of the best way to break down and transport your electronic drum kit when it comes to placing it in your car, SUV, or trailer, then this article can help you out. We will discuss the best methods for transporting your electronic drum kit, and we will also take a look at electronic kits that fold up in seconds and which you can carry under your arm.
Transporting electronic drums safely
Transporting your electronic drum kit does not have to be a huge fuss. It is actually pretty straightforward, and for the most part, it is much simpler than carrying around your acoustic set.
We'll discuss how to transport your electronic drums in three ways. These will include transporting them in a car, an SUV, and a trailer.
However, because technology is rapidly progressing at an unprecedented pace, you now get various types of electronic drums, with some having the ability to fold up in seconds. So let's briefly look at these in case you are in the market for a new kit and one that requires even less effort for transportation.
Do electronic drums fold up?
Indeed, you now get electronic drums that fold up and that you can carry under your arm. This is no joke, and in fact, these kits started coming out almost a decade ago.
Roland first introduced this type of electronic portable drum kit with the TD-4KP V-Drums, which was back in 2012. Roland still has that kit available on their product line, but they later introduced the TD-1KPX2, which is similar in design to the TD-4KP; however, the newer model features mesh pads instead of rubber.
However, we always recommend using rubber pad electronic kits for gigging because they are way more robust than mesh pad electronic kits.
If you want to know more, check out my other article here, where we go over electronic drum kits for gigging.
Check out the TD-4KP on Amazon.
out of stock
as of September 3, 2023 9:11 pm
Breaking down your electronic drum kit for tranposrtaion
Here we will explain how to "fold-up" or "break down your electronic kit in a general manner. Firstly, you do not want to unplug all the cables and remove all the cymbals, toms, and snare. There is a method by which you can leave almost everything connected and will only have to remove a few elements before placing everything in your car, SUV or Trailer.
Start by removing the hat pedal, kick drum pedal, and electronic pad for the kick drum and place them to one side.
Next, you will gather all your accessories like your sticks, cables, power supply, headphones, audio interface, DI box, drum key, laptop, etc., and place them in a carry bag.
Following that, you will adjust the toms and snare heights so that they can overlap each other when you fold the kit together. Depending on how many toms you have, you will adjust the height of the floor tom to be below your snare and the remaining toms to be above it.
Then you will loosen the fastening screws of the mounts on your kit, so you are able to swing the left and right sides of the kit together.
At this point, you should have your kit folded into a triangle type of shape, and everything is still connected; the only thing you have done is adjust the height settings of your snare and toms so that they will overlap.
What you will now do is gather up all the unconnected cables from your kit and either place them in a stick bag or wrap them up with some string, so they don't flap around everywhere when you start moving the kit.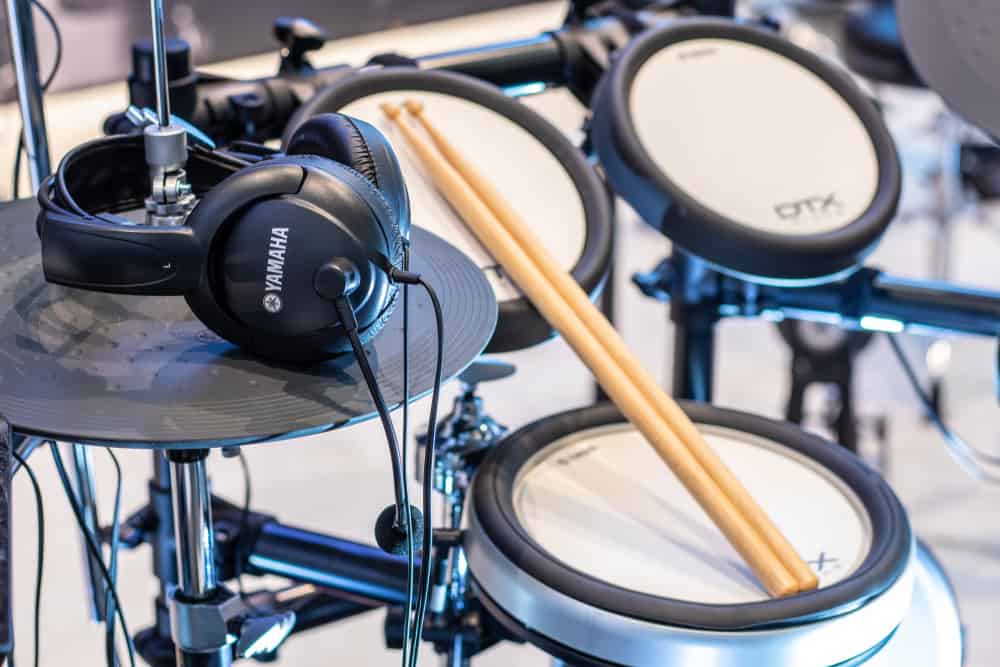 Transporting electronic drums in your trailer
The trailer will be the easiest of the three options for transportation because it will have the most space. It's simple enough, and all you have to do is place your kit and accessories in the trailer in an upright position. You should have more than enough space for it.
Transporting electronic drums in your SUV
Besides a trailer, an SUV will be the easiest way to transport your electronic kit because it has more space than a car but less than a trailer. Laying down the back seats in your SUV will help with space, and if you plan to place your kit upright, then you will need to adjust and lower the cymbals accordingly.
After you have placed your kit in the SUV in an upright position, the next thing you have to do is pack the rest of the kit in there. Take note that you can put the kick drum, hat pedal, and hat stand if your kit comes with one alongside your folded-up kit.
However, make sure that any fragile equipment such as laptops, drum modules, and such are placed somewhere else safely in the SUV.
Transporting electronic drums in your car
Getting your electronic kit to fit in your car will be a much more difficult situation. You will definitely need to lay the back seats of your vehicle down and what you will also need to do is remove all the drum pads and cymbals because your trunk might be very small. This might be a little tedious, but it will save you from damaging your kit.
What you will want to do with your drum rack is open it up and position it in a "C" like position so you can almost slide it into your trunk and over the back seats.
Make sure to place all of your rubber cymbals into a cymbal bag. Then if you have any type of solid container, you will be able to place any fragile equipment in there because your kit and accessories might get damaged due to the lack of space.
Check out this solid drum kit accessory case on Amazon.
$229.99
in stock
as of September 3, 2023 9:11 pm
How do I choose an electronic drum kit with transportation in mind?
We recommend that you get the smallest kit possible in terms of the number of toms and cymbals. However, make sure that you are still able to play in your style without sacrificing too much.
We typically recommend a 5 piece kit (not including hat and kick) to a 7 piece kit. Remember that rubber is preferable over mesh when you are gigging because it can take a lot of damage without being affected.
Conclusion
We discovered that transporting electronic drum kits, for the most part, is actually easier than trying to transport an acoustic set. This is further compounded by the fact that drum manufacturers like Roland make electronic kits that just fold up and that you can carry under your arms.
For the most part, you will leave most of your kit intact when you are packing it up, making it ready to be transported. Remember to only disconnect the kick and hats. You should then adjust the height of the toms and snare accordingly, so they overlap and fold into each other.
Placing and transporting your electronic drums in an SUV and trailer will be your easiest option, and you should try using these methods rather than a car. A car will be a little tougher when it comes to transporting your kit because you will need to remove all the cymbals, toms, and snare and kind of "roll" your drum rack into your trunk and over your back seats.
Source list
How I Transport My Electronic Drumset (Car, SUV, and Trailer)