I am not a DJ, but I have been asked this question many times by DJs. I have only ever used studio monitors for my studio and then for personal home use. Then, at live shows where I would play and sing, we would use PA loudspeakers. So, I decided to explain in this article the benefits and disadvantages of studio monitors for DJing.
Studio monitors are specifically designed speakers used for reference listening in the studio or at home. They are good for DJing only if used in a small space for practicing or for reference listening; otherwise, PA loudspeakers should be used for live performances because they are built and designed for power, durability, and ruggedness.
We will go over in this article exactly what studio monitors are designed for, circumstances where a DJ should and should not use studio monitors and PA speakers, and then I will also give you a list of recommended studio monitors and PA loudspeakers so if you are in the market to purchase a pair of studio monitors or PA speakers you will have to look no further.
What are studio monitors designed for?
Studio monitors are specifically designed loudspeakers that have been made for specific and critical listening. They are used in the studio for audio referencing, mixing, editing, mastering, and producing.
The features built into studio monitors are very different from that of PA loudspeakers and your average home entertainment system or bookshelf speakers.
Studio monitors are designed to be near-field or medium-field speakers. This means that the speakers have to be pretty close to the listener to achieve the crystal clear high-fidelity sound they produce. After only a couple of feet, the audio quality will drop. Not that it will drop to the degree that they will sound bad; on the contrary, they will sound great. However, they are designed to be heard from a few feet away so that you can listen out for and hear any discrepancies or faults in your audio mix.
They are also designed to have a flat response. This means that no frequency range of sound waves is boosted or cut to make the audio sound more pleasant.
On normal PA loudspeakers and especially your home entertainment system, some frequencies will be boosted or cut to deliver you what is thought to be a more pleasant sound and hence, a more pleasant experience.
Because studio monitors are designed with a flat response, they are made specifically for studio referencing. The idea is that if you are mixing, producing, or mastering, you get a good sounding mix on your studio monitors. Naturally, your mix should sound good on any audio system when played back.
Watch Sound on Sound magazine take a visit to Adam Audio to show you exactly what goes into making a studio monitor.
How powerful are studio monitors?
Studio monitors are not designed to drive and power the inside of a club. As we said, they are designed for referencing audio in the studio. Hence studio monitors are designed to be relatively small when it comes to power output (watts). Some studio monitors can be as low as 20watts, and the most they would go up to is about 60watts.
PA loudspeakers, on the other hand, can go up to 1600watts. This is due to the design. Again, both PA loudspeakers and studio monitors are designed for different things. Studio monitors will not need to be loud because studio space is usually not that large, so the audio that the studio monitors will playback will be heard in great quality.
PA speakers need to be designed so that the sound they produce can fill up a club or even stadiums.
What type of speakers do you need for DJing?
The first question we have to ask is what type of a DJ are you? are you a DJ that works in a radio station, a DJ that creates and produces their own music, or just a DJ that mixes music.
The next question we have to ask that can be coupled with the first question is, where will you be using your speakers or studio monitors?
Both of these questions will relate to the outcome of what speakers or monitors you will actually need.
Are you just practicing your DJing skills?
Studio monitors do sound great when you play audio that has already been mixed, produced, and mastered (a track from your favorite artist or band or a track from the radio). Even normal loudspeakers of any kind should sound great when audio that has been mixed, produced, and mastered is being played through them.
Remember that studio monitors are designed for a specific purpose (critical listening in the studio), and some studio monitors can get a bit pricey. If you are just practicing how to mix and are not creating or producing your own music, then perhaps choosing a normal or average pair of home entertainment system speakers or bookshelf speakers is best suited for your needs in this situation.
Also remember, if you are practicing, you are probably doing so in your house in a small room, so you do not need to get a large pair of PA loudspeakers. Hence depending on what you want in terms of a small speaker, you could also be looking at getting a pair of studio monitors because they are designed for small spaces but again, they are sometimes pricey.
Depending on what you feel you want and what actually relates to your needs and then how much cash you have to burn, you could choose to get either studio monitors or your standard home entertainment speakers or bookshelf speakers.
Are you a DJ that also produces your own music?
If you are a DJ that creates and produces your own music, you definitely need to get a pair of studio monitors. The studio monitors' sole purpose is for referencing audio that is being created so you can pick out any flaws, faults, and any other form of inconsistencies in your audio mix.
You can not mix, produce and master audio on home entertainment speakers, bookshelf speakers, or even PA loudspeakers. These speakers are not designed to create great audio, but rather they are designed to playback audio and have that audio sound pleasant.
Where will you be using your studio monitors as a DJ
So if you are a DJ that produces your own music in your room or studio, I would highly recommend getting yourself a pair of studio monitors. Then if you also play live, I would suggest getting yourself a pair of PA loudspeakers.
So in those two situations, you would need two pairs of speakers. There is, however, a situation where you could get away with just one set of good quality PA loudspeakers.
If you are playing in your room and just practicing and then DJing live to small crowds of about 100 people or so, you would be best suited to get a pair of good quality PA loudspeakers. I would recommend getting speakers that are either 8inches or 10 inches large. Anything above this and the job of moving them from your home to your gig would get tedious and painstaking very quickly.
Why I suggest, either 8 or 10's, is that they are small enough to fit in your house and not be overbearing, and then they are powerful enough to drive a small crowd of people. If you find that they are just a little bit shy in power, you could always just get a woofer (bass bin) for some additional sound, and that would be more than adequate than to drive a crowd of up to 200 people.
You could then hove your 8inch speakers in your house, and your bin tucked neatly away, and then moving the speakers from your house to the gig would be relatively easy.
What other purposes could you use studio monitors for as a DJ?
The only other thing you could use your studio monitors for is for monitors. that may sound strange, but I'm talking about if you are at a gig. You have set up your PA loudspeakers; perhaps you would like a pair of monitors for your own convenience, so what you could do is take your studio monitors with and use them for yourself as stage monitors.
This is the only other case I would recommend using studio monitors for. Studio monitors are not built with the rigidity and ruggedness that PA loudspeakers are built.
PA loudspeakers are built with steel mesh grills, durable hard, resistant components, materials, and rugged, durable outer chassis usually made of plastic.
Studio monitors are very delicate in their construction and are not made to be thrown into a trunk or van every other night, being hauled to various places and events and being pushed to their volume limit. Always remember to keep this in mind.
Recommended studio monitors
If you are in the market for a good pair of studio monitors, whether you are an avid DJ or producer of sorts, then take a look at our recommended gear section for budget, mid-range, and high-end studio monitors here.
I go over the top 5 studio monitors for each category and give you an overview.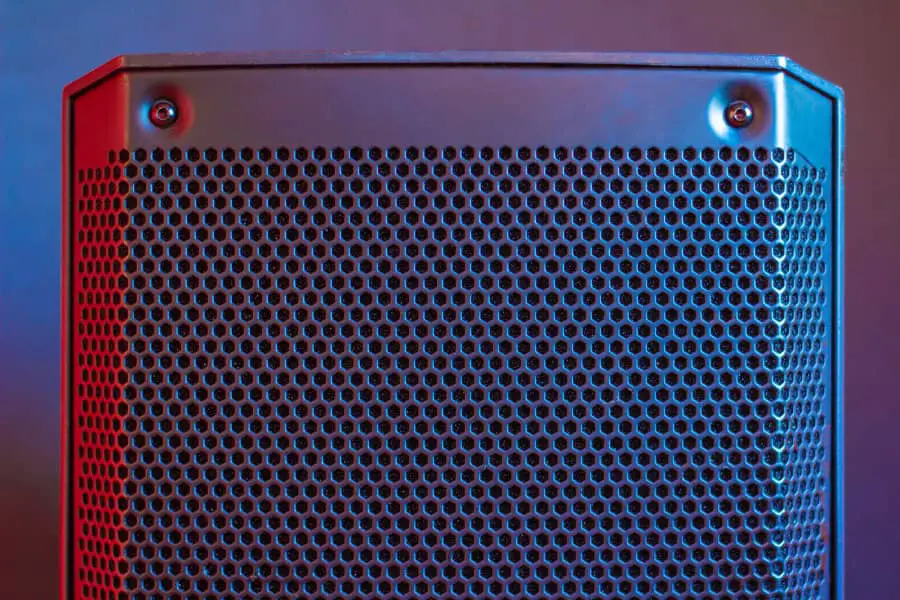 Recommended PA loudspeakers
Here is a compiled list of the recommended PA loudspeakers that you could use for live performances or practicing your house skills.
Yamaha DXR15 Active PA Loudspeakers
These speakers come in 8, 10, 12, and 15inch variations, so you are able to choose the size that suits your situation. It has a class D powered amplifier built into the speaker, so there is no need to have a standalone powered amplifier. They push out a staggering 1100watts with a max SPL of 133dbs, and it has DSP protection.
DSP protection means that if a signal going to your speaker is too loud, your speaker will protect the circuit board before the signal hits it. The frequency range is between 49hz and 20khz.
These speakers are also built with a mirrored design, which can be placed on their sides for monitoring purposes. It has both mic and line inputs. The speakers also feature a high pass switch and a D contour switch.
Check out these speakers on Amazon.
QSC CP8 Compact Powered Loudspeakers
These speakers are 8inches and pack a tremendous amount of punch. If you can believe these little bad boys pump out 1000watts of power, are lightweight and very durable and rugged, not to mention they sound amazing.
Sporting an 8inch low-frequency driver and a 1.4inch high-frequency driver. These speakers come with a 3 channel mixer situated on the back. You get two inputs: a combination of XLR and jack and then a stereo aux input. The combination inputs also have a volume knob. It also supports a mix out, so you can connect other speakers to it.
Another feature that these speakers have is a contour dial, which you can set to various settings, including default, default ext sub, dance, dance ext sub, floor monitor, and speech.
Check out these speakers on Amazon here.
Alto Truesonic TS312 Powered Loudspeakers
These speakers push out an incredible 2000watts and are only 12 inches. The sturdy and rugged design will not leave you wondering if they can handle the wear and tear of being on the road all the time, and they are small enough to fit in a small compact hatchback.
These speakers have dual combination inputs of XLR and jack with volume knobs for each. It also has a mix out for extending your sound to another speaker, and it features contour and ground switches.
Check out these speakers on Amazon.
TOURTECH TT-PSM5 Active Portable PA Speakers
This speaker is 120watts that maxes out at 150watts, and you will not believe how small it actually is. It has a max SPL of 114db. The speaker is 5inches, and it is perfect for tiny parties and playing music in your home.
It has a dual input of XLR and jack and an auxiliary input. It features a 3 band EQ and has phantom power as well. Surprisingly it also has a built-in echo effect. Finally, it has a high-z switch for instruments and a mix out so you can plug another speaker into it.
RCF ART 715-A Mk4 Digital Active Loudspeakers
This bad boy is a multi-purpose active loudspeaker that produces amazing high-quality sound and is built with a stylish and rugged design. It has a 15inch low-frequency driver that produces a nice clear linear response with precise low-frequency control and is a potent 1400watts.
It has a max SPL of 130dbs and is very simple and easy to use. It sports 2 inputs, 1 XLR, and 1 jack, which are both balanced. It has one volume knob and an EQ boost switch that boosts the low frequency and then an input sensitivity switch catering to either mic or your line input.
Check out these speakers on Amazon.
Wharfedale Titan 12D Active PA Speakers
This is definitely the best-priced speaker in terms of quality for money. It is 500watts and pushes everything through a custom made moisture-proof low-frequency 12inch driver. These monitors can be used indoors and outdoors.
They are durable and rugged and are great for any purpose, including being used as monitors. It has a max SPL of 127dbs and features two dual combination XLR and jack inputs and an auxiliary input.
It has a 2 band EQ for highs and lows and an insert for remote gains. Lastly, it has volume knobs for each channel and features a mix out where you can plug in another speaker.
Check out these speakers on Amazon here.
QSC K8.2 Active PA Loudspeakers
These speakers are 2000watts and 8inches. Incredible for home and live use as well as small and compact. They are incredibly small, versatile, light, and compact and have that renowned quality the old K series had.
The frequency response is 49hz to 20khz. It supports multiple ins and outs that are a dual combination of jacks and XLR's. Besides the gain knobs for each channel, these speakers come with a LED screen that lets you scroll through EQ settings, gain settings, and presets that come built into the speakers.
Check out these speakers on Amazon.
Conclusion
In conclusion, we can see that studio monitors are perfectly fine and acceptable to use for DJing purposes if you are either practicing, producing, mixing, editing, and mastering your audio in your home studio or room.
If you are playing live shows for the most part, then studio monitors should only be used as a monitor for yourself on stage; otherwise, it is preferable to get proper professional high-quality PA loudspeakers.
Remember, if you calculate correctly, you could get a pair of PA speakers that you could use for live performances and home use.
If your studio monitors are too quiet, you can find out why (and how to fix it) here.
If you are just starting to get set up, you can learn about the cables you need for studio monitors here.
If you are hearing cracks, buzzes, or pops from your studio monitors, you can troubleshoot it with this article.