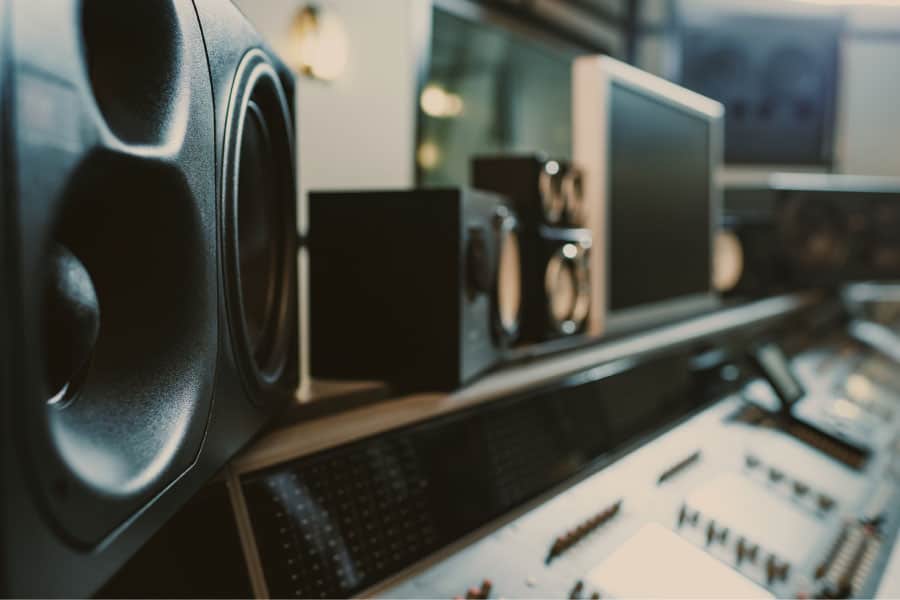 Studio monitors are known to be outrageous in their pricing. I myself spent a pretty penny for my studio monitors. Why are they expensive? Well, there are actually more reasons than you may think, so I decided to type them out and then give you a review of the best monitors for a budget, intermediate, and high-end price range.
Studio monitors are expensive because of their design and quality. Thousands of hours are spent on research and development, which is then implemented using the highest quality components to build high quality, clear, responsive, flat, and true-form critical listening one requires when mixing and producing in a home or professional studio environment.
We will look at exactly why studio monitors can be costly, and you will see that branding, R & D, implementation, and components are huge factors that allow manufacturers to charge what they do for studio monitors. At the end of this article, I will also review and cover the best studio monitors for people on a budget. Then intermediate studio monitors and then high-end pricey studio monitors. So be sure to check that out.
Studio Monitors Overview
Studio monitors are speakers that have been designed and tailor-made for critical listening that are used in home and professional studios. They are used for referencing audio in a professional and home studio environment.
(You can learn more about what studio monitors are used for here).
The main difference between these speakers and your other home theatre entertainment speakers is that they are built specifically with key features such as near filed listening, onboard power amplification, and a flat response.
The better the studio monitors' response, the more likely they are not to give any boosts or cuts to specific frequencies. This is why you pay so much for them when compared to other "ordinary" speakers.
I've laid out the reasons why studio monitors can range from very cheap to ultra-expensive.
Brand
Besides paying for all the features studio monitors have over your average speaker, you also pay for the brand. As with anything in this world, because a manufacturer is well known in an industry, they can charge whatever they want for their products.
Brands are built on a two-part factor. The first being they are established in the community in which they sell their products so people will tend to buy from them more which we have discussed.
Then the 2nd factor is that they are established because their products are of high quality. hence, that being the reason they are well known and people tend to lean towards them without any prior knowledge of a product.
Research and development
Manufacturers spend millions on R&D learning implementing the cutting edge of new technology and high-quality components. When you purchase studio monitors, you are guaranteed that thousands of hours have been spent looking into and researching the design, layout, components, and manufacturing of those monitors.
They test everything from room compensation, flat response, near-field listening, watts, and impedance capacity. Not to mention, they test hundreds of components against, and with each other to get these aspects and features to a professional level.
Components
In trying to build high-quality audio gear, manufacturers use the highest quality of components that make up and build their monitors, from wood that resonates in a specific way to certain frequencies, to the transducers and wires that make up the monitors' internal workings.
All the components that makeup studio monitors are of the highest grade quality.
More reasons why studio monitors are expensive
There are tons of reasons why studio monitors are more expensive. You do get budget or low-end studio monitors, and in this article, I have reviewed monitors in all price ranges, so scroll down for that. Here are 5 additional and important factors why studio monitors are so expensive.
You pay for a "flat" response
The frequency range of studio monitors can be different. Ultimately, when you are looking at studio monitors, you want them not to boost or cut any frequencies in any range. If you have a "flat response," you can mix a sound that will sound good on any audio system.
Different studio monitors handle different frequencies
Depending on the quality and price range of studio monitors, you might find that some monitors have a better response (especially in the low end), more clarity in the high end, and a better overall sound.
This is because different monitors will handle different frequencies better. This relates to a flat response, but remember depending on your needs, you may be looking at monitors for certain frequency responses because of your situation.
Design and implementation
Falling under a section of R & D, the design and implementation of studio monitors' components and features are second to none top notch. Using the latest technology and components, manufacturers go as far as adjusting designs with microns and placing them at strategic points utilizing the best possible scenario to bring your monitors to a superhuman level.
Transients
Studio monitors can catch and reproduce transient sounds (a transient is a high amplitude, short-duration sound) as no other speaker can. They are snappy, bright, and have a wide response to most frequency ranges.
You will be able to hear the first moments of a vocal line or the crisp sound of a rim shot when listening to audio through studio monitors.
Compensating for your room
Designed to be near-field and mid-field speakers. You can listen to clear, crystal, unhindered true natural sound when positioned properly in a room.
Technology has come such a long way that some studio monitors even compensate for your room by removing dead spots and blind spots. Some even have a graphic LCD EQ that you can adjust to get the room compensation just right.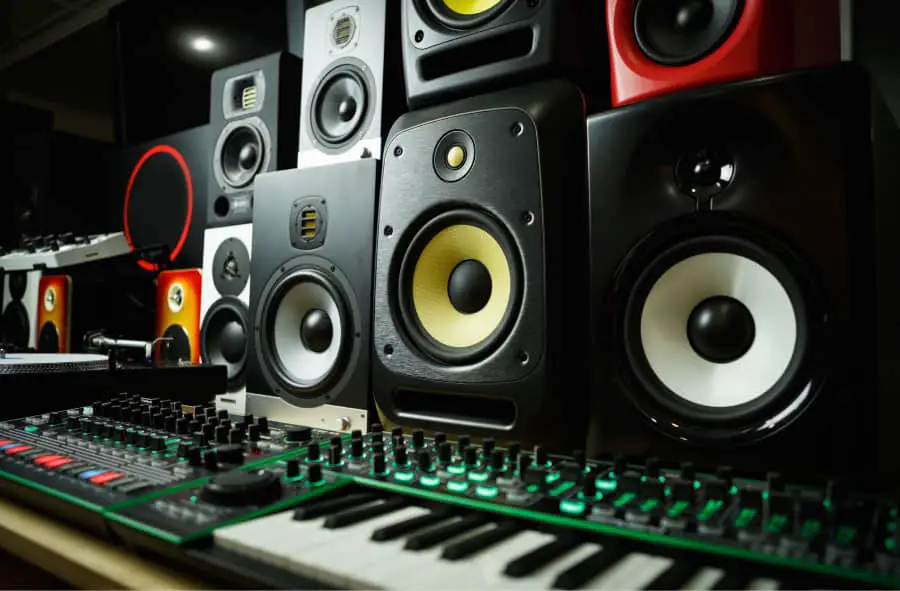 Best studio monitors by price and quality
Let's take a look at some of the best studio monitors on the market that you can get for your budget. I've categorized them from high-quality budget options to mid-range priced options, to the high-end, best of the best your money can buy.
Note: This site is a participant in the affiliate programs of Amazon.com and other websites where these products are sold and we are compensated for referring traffic and business to the respective websites and other companies linked to this post.
High-quality "Budget" studio monitors under $200
Here are my top 5 budget options that'll give you the best bang for your buck:
Pinoeer Pro DJ DM-40
The pioneer Pro series has a front-loaded bass reflex system and comes with 4-inch fiberglass woofers. These woofers output a punchy and lively bass from the front, and they also have grooves on the ducts to reduce air friction. The class AB amplifiers in these studio monitors deliver a very crisp sound with low distortion.
The soft dome tweeters with deco convex diffuser fittings allow you to listen to 3D stereo sound, whether you are standing or sitting. Another cool feature is that they have a Bluetooth option that is available.
It has a smart interface and RCA and stereo minijacks inputs at the back; then, they have headphone outputs and the volume knob on the front.
These monitors are perfect if you are new to the studio or are a legendary DJ in the making.
Presonus Eris E4.5
One thing to consider when purchasing these monitors is that they are designed to be near field monitors. Some people who have purchased these monitors have said that the low-end frequencies and bass are lacking. You have to remember that because they are near field monitors, you have to sit relatively close to the monitors in order to hear the mix. The further away you stand or sit form the monitors, the more the sound quality will get lost and deteriorate.
These monitors offer the audio quality nearest to your true sound. These monitors' functions and features are not made for "best listening" but for critical listening. Be sure you know what sound you are aiming for when choosing these monitors.
They have acoustic tuning knobs to either cut or boost the high and low frequencies on the back, as well as your standard RCA and jack outputs.
Alesis Elevate 5 MKII
When buying low-end budget monitors, the most important feature that suffers is that of the frequency response at the low end. This is true for these monitors. However, these monitors have been included with a bass boost switch. Considering that this feature should be used for relaxed listening rather than this feature being used for reference listening.
Overall, these monitors perform well across a wide spectrum of listening situations. These monitors are great for gaming and beginner studios.
JBL1 Series 104
These monitors are designed for home recording, podcasting, and portability in mind. They deliver top-quality performance for a small amount of your cash. These monitors offer great sound reproduction that is both balanced and accurate across a wide frequency range.
These monitors offer Bluetooth connectivity so you can use them in your studio or at the beach streaming tunes from Spotify from your phone.
Overall these monitors are a great choice for a lot of situations.
Mackie CR3-XBT
Mackie has been in the industry for a long time and is highly regarded by both beginners and seasoned professionals alike, providing top-quality audio gear at affordable prices.
These monitors hit that sweet spot between price and performance. These monitors offer Bluetooth connectivity and have a 3inch driver. They performed consistently in terms of clarity and accuracy when I tested them with some reference tracks.
Overall these monitors are sturdy and do the job.
High-quality "Mid-Range" studio monitors under $400
Now let's take a look at our top 5 mid-range priced studio monitors. These monitors are higher in quality than the budget options we just went through, of course, but these still offer amazing value for the money you spend on them.
M-Audio BX5-D3
I personally use the M-audio BX8-D2 monitors in my setup, but the D3's are phenomenal, and I actually started with this pair myself when I started producing from my home.
These monitors have a wide frequency flat response range with room correction features. They feature a LED light that enables you to see it when the monitors are set up in line with your ears.
These are great and provide a crisp, clear, critical listening sound that is a must-have for a beginner producer starting off in their home.
JBL 305P MKII
JBL is favored and very popular with people, especially when it comes to audiophiles. These monitors are one of their newest editions to complement their wide range of professional audio equipment.
A ton of the features present in these monitors were taken from the JBL 7 series. One of the most popular and legendary features these monitors come with is the patented image control waveguide and refined transducers. Due to these features, the monitors offer stunning detail, precise imaging, and a wide sweet spot.
The dynamic range of these monitors is phenomenal and enhances the mixing capability of any works space. If we also take a look at the monitors, you can see they are designed with a fresh, clean, and modern design and will suit any studio you put them in.
KRK Rokit 5 G4
These monitors sit at the top of the range for our monitors under $400. These monitors have improved sound reproduction and performance from our "true" budget monitors.
They have a large and wider frequency range to deliver you the flattest response, which means richer bass response and sound reproduction.
It also offers a high-resolution DSP room tuning LCD screen, which sits at the back of the monitors, and this lets you set up, tweak, and adjust your monitors. They also feature an onboard EQ, which is presented in the LCD screen at the back of the monitors.
Overall these are serious monitors that deserve your attention under the $400 range.
Yamaha HS5
If you know anything about home studio recording or just recording in general, then you might know the story behind the Yamaha NS10 series. These monitors were famous for being studio monitors that sounded "bad." And the assumption was that if you could record and make a mix that sounded good on these babies, then they would sound great on any audio system.
The HS5 monitors are built solely with mixing and monitoring in mind. These monitors don't have any funky or cool features, and the room correction capability is basic at its best.
They are designed for sheer accuracy and are difficult to beat in that aspect when purchasing monitors under $400's. If you can get your mix right on these, then probably it will sound fantastic anywhere.
Adam Audio T5V
You may have noticed in some of my other articles, I mention Adam Audio and, in some cases, even share a YouTube video with you in terms of what aspect of home studio recording we are dealing with. Adam Audio has been around for the past 20 years and has recently started to excel and become a brand that many audiophiles choose when looking for audio equipment.
These are hands down the best studio monitors for under $400's. They are built around a 50watt 5-inch woofer and U-Art accelerated-ribbon tweeter.
This class D powered two-way design has astonishing bass reflex and is the smaller pair of the new T series design. The top-end (high frequencies) are very well tuned, and they deliver a broad horizontal sweet spot. These factors contribute greatly to the overall separation and imaging, which is amazing.
They sport a high and low-frequency switch that can either cut or boost those frequency ranges by either +2db or -2db. The low to mid-range frequencies could be more prominent, but by setting the low frequency to cut -2db, this almost solves the problem perfectly.
"High-End" studio monitors
Now let's take a look at 3 of the best studio monitors on the market that your money can buy.
Mackie MR624
These monitors deliver great accuracy and consistency. They were built for professional mix translation and audio accuracy like no other monitors under $200. These monitors are great if you are a professional producer and on a budget.
They come with ultra-wide dispersion for enhanced stereo imaging and a listening sweet spot. The 1inch dome tweeter provides a very fast transient response for detailed high-end clarity.
The woofers deliver a responsive and dynamic low frequency. They are BI-amped and run at 65 watts and utilize class AB amplification. You will definitely get professional results with these bad boys.
Focal Shape 65
Aesthetically these monitors are interesting to look at. The main speaker cabinet is painted black, featuring a luxurious walnut veneer. The shapes and designs are non-ported with dual 6.5inch passive radiators, one on each side of the monitors.
Their frequency response is from 40hz – 35khz, and the sound they produce is clear and responsive from the very low end to the top peaks of the high-end.
Overall these monitors are amazing and if you have the cash, then definitely check these out.
KRK Rokit RP7 G4
KRK is well known in the audio industry for producing top-notch high-quality studio monitors. They are distinctively well known for the cone shape and color. The Rokit series is now in its 4th generation, and these are amazing near field monitors.
Just like the mid-range 5 G4 series, they sport an LCD situated at the back of the monitors that let you adjust and set the EQ. In-built digital processing allows these monitors to have a wide variety of tools, including a room analyzer that ensures that the monitors compensate for the room you are mixing in. They find and cancel out any dead-zones and blind spots due to this feature.
Overall these monitors are the best monitors for a small studio setup.
Conclusion
In conclusion, we can now see why studio monitors can be pricey and even go to the extremes of very expensive.
You pay for the brand name, and usually, that signifies thousands of hours in R&D and implementation. They use the highest quality components and products to make up their monitors, and no stone is unturned when trying to figure out new ways for a better response and a true critical listening experience.
All in all, even if you are on a budget, there are studio monitors that will suit your needs, and we covered them all here in this article.