I started doing live sound before I ended up running my own home studio. In live sound, you use a mixer – and luckily for us, we live in a world with preamps built into the mixing desks.
When I first started, I never even knew what a preamp was, or that mixing desks had them built-in. In fact, most people I talked to about mixers and preamps didn't know this either. So, here is an article on preamps, mixing desks, and then a review of the top 5 standalone preamps and top 5 mixing desks I could find.
Most modern-day mixers have preamps built into them, so you do not need to purchase a standalone preamp. Depending on the mixer, the preamps will be built with certain materials and components ranging from an entry-level preamp to digital and tube preamps at the high-end of the spectrum. All of these offer different sounds for your audio signal.
In this article, we will discuss preamps and mixers, how and when to use them, how they work. We will also go over what type of preamps you get in a standalone model and then ones that come built into mixers.
At the end of the article, we cover a top 5 review for preamps and mixers, so if you need to purchase one or maybe you want to look at getting a different sound, then be sure to check that out.
Let's get started.
---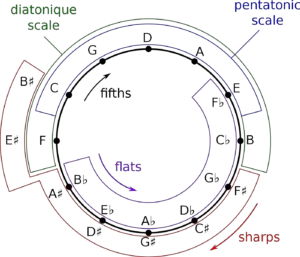 Keep track of all your music and notes in one convenient place!
Over 1000 sold to songwriters everywhere – with a 5-star rating.
---
What Is A Preamp?
A preamp is a specifically designed type of amplifier that is made to boost a low-level audio signal to line-level.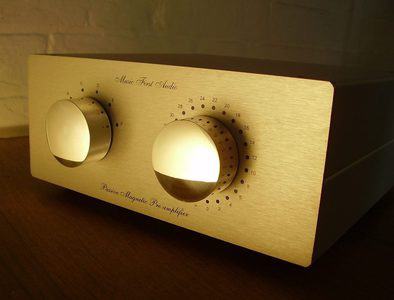 (You can read more on preamplifiers from my article – here.)
Preamplifiers are different from powered amplifiers:
Powered amplifiers boost a line-level signal so that you can push that signal through your loudspeakers or studio monitors.
Preamps boost a low-level mic signal and then push it down the chain of your devices so that you can use it accordingly.
When Do You Need & Use A Preamp?
You use a preamp in any situation where you need to boost a microphone signal. This could be in a recording studio or live performance (essentially, anytime you are recording or playing an instrument or anything that needs to be "mic'ed up.")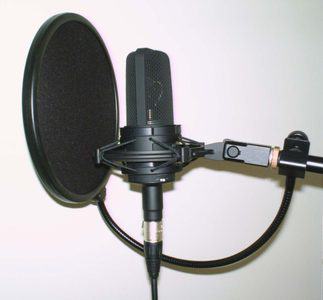 You even use a preamp in your cellphones, PCs, and laptops. All your headphone and mic input jacks on those devices use preamps even though most are probably not aware of it.
What Different Types Of Preamps Do You Get?
Preamps come in various forms, such as built into your audio interface, as standalone devices, and then also built into mixing desks. All these different types of preamps have the same crucial design, enabling you to boost low-level frequencies.
However, the materials and components used in preamps can vary quite a bit. As a result, you can get some interesting sounds if you decide to purchase and use standalone preamps.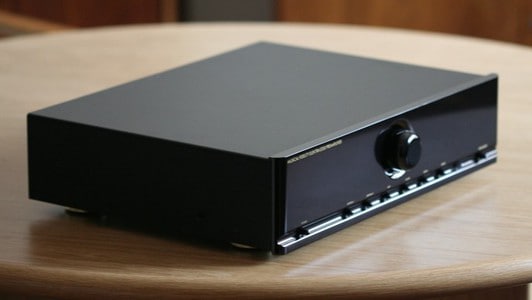 The transistors that make up a preamp are a more modern technology, and this is what you will find in most mixing desks and audio interfaces. A modernized preamp will give a bright and shiny quality to the audio.
On the other hand, some preamps (including older ones) are built with tubes. These tubes will give the audio quality a warm, full, and rich sound.
Preamp
Type
Older
Preamp
Modern
Preamp
Tech
Tubes
Transistors
Voltage
High
Low
Sound
Warm
Full
Rich
Bright
Shiny
The table above gives a side-by-side
comparison of two types of preamps
(older and modern) give different
sounds due to the different technologies
used in their construction.
Watch Sweetwater go over exactly what a preamp is and what different types you get.
What Is A Mixer? (Mixing Desk)
A mixing desk is a device used to route, edit, control, and manipulate multiple audio signals at once. A mixer can be used for recording purposes and live performances of any kind (from a podcast to a stadium show).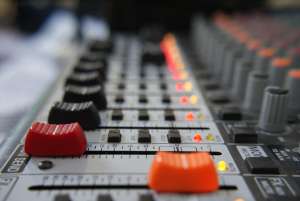 Mixers come with various features and functions, including:
FX sends
Multiple inputs
Multiple outputs
Auxiliary sends
Effects
Channels
Analog & digital EQ
One thing to note is that mixing desks will look different because of the various features and functions it may have. However, all mixing desks work on the same principle of routing audio signals.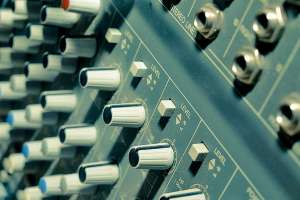 Some desks may only have 1 channel (for podcasts or announcements), and some desks may have a staggering 32 channels, some even 64 (live stadium gigs and professional studio recording environments).
Watch sweet water explain exactly what a mixing desk is and how it works.
Does A Mixer Have A Preamp?
A mixer (mixing desk) most certainly has a preamp built into it. Depending on the mixer's manufacturer and model, you will most likely see different components and materials that make it up. This will affect the quality of the signal.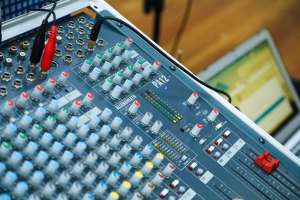 All mixing desk preamps work perfectly fine even at the entry-level. It is when you start to look at the high-end products you will find specifically designed and manufactured preamps in certain models. These will offer a little something different to your regular standardly built preamp.
How & When Do You Use A Mixer?
As we said, you use a mixer for any live or recording purpose where you need to track and manage multiple audio signals that will be recorded or played back.
You will almost certainly have XLR and 1/4 jack inputs, jack sends and returns, and then either TRS balanced outputs or XLR balanced outputs for your mains.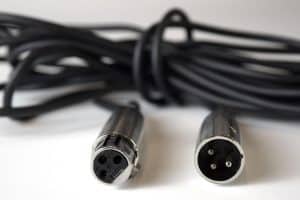 How it works is that you plug your microphone or instrument into the inserts of the desk, and then you can manipulate the sound with a volume fader, EQs, effects, sends, phantom power (for condenser microphones), and gain. The built-in preamp will boost the microphone signal of all the channels, and then those channels will feed into the main out channel.
If the mixing desk has a power amplifier built into it, it will boost the line-level signals coming from those channels through the main outputs and then through to your loudspeakers or any device you have set up that is receiving the audio signal.
That's basically how a mixing desk works. You have many more functions and features available to you to either route or manipulate the signals that the desk is receiving, so it is up to you to decide what your needs are and research and find out what you need to get the sound you are looking for.
Why Would You Use A Separate Preamp?
You would use a separate preamp if that is your preference. Preamps, as we said, are sometimes designed with different materials and components, and these will affect the quality and timbre (tone) of the audio signal.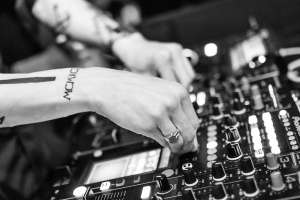 Some are inexpensive while some can range in the hundreds of dollars. At the end of the day, it is up to you to decide what type of sound you are looking for, whether for vocals or anything else.
Tube preamps will give you a more warm, full, and smooth quality, while modern-day preamps will offer a brighter, almost tinny sound giving you a great high-end frequency lift.
Watch Justin Omoi compare a vocal track from an audio interface and from a preamp.
Top 5 Preamps To Buy
Focusrite Scarlett OctoPre Dynamic
This is an 8 channel preamp and interface. It is suitable for extending the input array of any studio, and it is great for live. You get a combination of jack and XLR input connections. Two of the inputs can manage "high z" instruments as well. This will allow you to plug in instruments such as guitars, keyboards, and bass guitars.
For line outs, you also get 8 1/4inch jack outputs. You get 8 channels of AD/DA that can change up to 192khz. This ensures that any other interface is connectable through AD/DA. Some of the features include a compressor on each input, which you can adjust right on the front of the preamp.
$663.30
in stock
12 new from $663.30
as of October 3, 2023 7:18 pm
Focusrite ISA One
This is a single channel transformer-based microphone preamp. If you look at the design, it gets away with a vintage look and is pretty easy on the eyes.
In extension to switchable input impedance settings for the microphone preamp, the unit consists of a line input on XLR and TRS jack. An independent DI channel emphasis a dedicated gain control, active or inactive impedance switch a 1/4 inch TRS output for main line outs, and an independent XLR output on the back.
$699.99
in stock
14 new from $699.99
1 used from $549.99
as of October 3, 2023 7:18 pm
Pro-Ject – Phono Box RS-MM/MC
This preamp blurs the lines between value for money. It features ultra-low noise and ultra-low distortion and is made for true audiophiles. The circuitry consists of a dual mono design.
You can use a fixed gain setting or shifting gain setting, which can be set on the front panel. The infinite impedance control can be found on the front of the device and has a range of 10 – 1200ohms.
With all the features this device has, it has the ability to be adjusted to get a great performance from any phono cartridge.
$1,199.00
in stock
as of October 3, 2023 7:18 pm
U-Turn Audio – Pluto Phono Preamp
This preamp combines high-quality components and good circuit design, and this, in turn, gives your turntable a serious boost. Its RIAA network features WIMA film capacitors and resistors for noise and distortion-free sound.
Its high-performance gain stage and sub-sonic filter minimize frequency noise. This will give you a bright, lively, and dynamic sound in the high frequencies, a smooth mid-range, and a nice full and heavy sound in the low frequencies.
It has RCA connections for both phone in and line outs along with a 9v power adapter.
Denon PMA-60
This device highlights a class D amplifier section that incorporates signature technology to deliver a great sound with up to 25watts of power per channel at 8ohms. AL32 digital processing is used when it is connected to a PC or Mac to help you playback PCM audio files back at a staggering 384khz at 32bit.
This device enables you to input digital audio signals vie 2 optical ports and 1 coaxial port. It also has stereo RCA inputs, which allow you to connect a phono device of your choosing. It also has Bluetooth connectivity and low latency.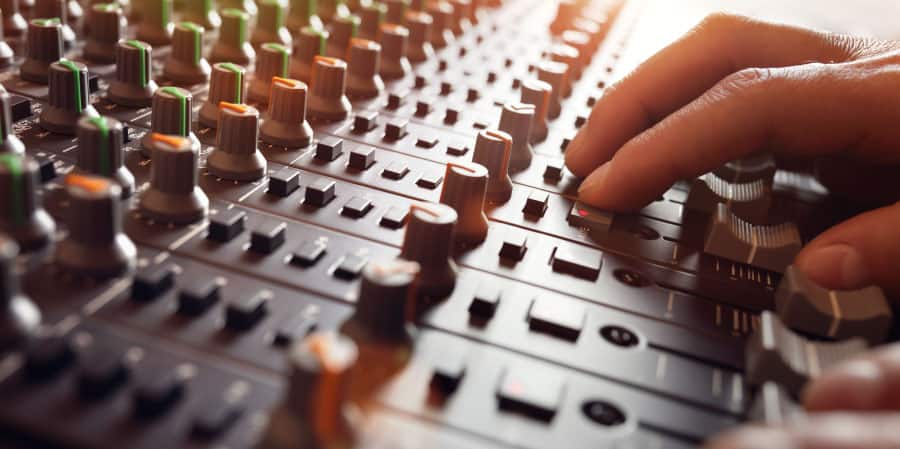 Top 5 Mixing Desks To Buy
PreSonus StudioLive 24.4.2AI
This digital recording console comes with an active live integration for live and studio recording. It has an integrated hardware and software system with dual digital fat signal processing on each channel, recallable presets, virtual soundcheck, remote control, and features 24 channels with phantom power. It has built-in X MAC preamplifiers and bypassable 1/4inch TRS line-level inputs.
For effects, it has 32bit floating-point processing with 4 band parametric EQ, limiters, compressor, pretty much everything you need. The desk's design is beautiful and features a 100mm long-throw fader, military-grade quick touch buttons, and rotary encoders for controlling functions. This device features a DAW for recording, editing, and mixing your music.
Check out this mixing desk on Amazon here
Yamaha AG03
This is a compact 3 input mixer with a USB interface and built-in DSP for sound reinforcement in recording small performances such as a podcast. It is capable of recording and playing back in high resolution (24bit 192khz).
It features a connection combination of XLR and jack input. It has a level control and phantom power with a "high z" switch for direct recording of guitar and bass. Lastly, It has a loopback feature that allows the user to broadcast their signal online.
$176.99
$189.99
in stock
4 new from $176.99
1 used from $166.00
as of October 3, 2023 7:18 pm
Yamaha EMX5014C
This mixer is a stereo powered mixer with 14 inputs, built-in digital effects, and two 500watt powered amplifiers. Its design is housed in a sturdy steel chassis that is also rack-mountable. It has two exclusive features; one is the feedback channel locater, which gives you a visual indication of feedback, and 6 channels of easy-to-use single-knob compression.
The FX send is routed to the built-in DSP that gives you 16 high-quality effects. The powered amplifiers can be separated, and one can be used for the PA speakers while the other drives the monitors.
Allen & Heath ZED-12FX
This mixer combines 6 mic and line inputs, 3 stereo inputs for FX returns. It has a 24-bit effect processor and a USB digital audio interface that is compatible with Mac and Windows machines. Channels 1-6 can be accessed via XLR or 1/4 inch jack inputs.
It features low noise preamps with 69db's of gain, plus the DSP effects engine offers 16 effects to choose from.
Mackie PROFX8V2
This mixer provides a comprehensive live sound solution. Each channel features 3 band EQs and a 100hz low cut filter. The effects engine gives you access to 16 different effects. It also has a 7 band EQ that can be assigned to the main outputs or auxiliary outputs. This is so you can either fine-tune the PA or get rid of the pesky feedback in your monitors.
It has an innovative USB through switch allows for an impressive live recording setup when using DAWs such as Ableton or Reason. It also provides phantom power on all channels and comes in 4, 8, 12, and 24 channel models. Its design is modern and fresh, built in a steel chassis and small and light enough to take anywhere.
Conclusion
In conclusion, we find that you do not need a preamp if you have a mixing desk. All mixing desks come with some preamp built into them to boost a low-level microphone signal to a line-level that can be used for processing down the chain of your signal.
Even your PC, laptop, and cellphones have preamps built into them so that you can use your headphones and microphones accordingly. However, some people opt to purchase standalone preamps because this will offer them variety in the sound that they are recording.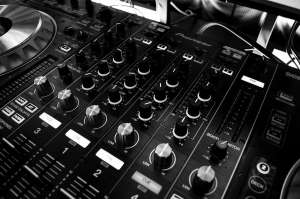 Different manufacturers design, implement, and develop different preamps made from different materials and components and offer many features such as phase reverse and low cut. Whether you are recording in the studio or playing live, you need to decide what type of sound you are looking for and then adjust accordingly.
Sometimes you will not have to change your preamp because modern-day preamps offer a bright and shiny tone (this is what most people nowadays prefer), and sometimes you may want a full and warm tone and opt to purchase a standalone preamp with tubes as their transistors.
You can learn about the difference between a mixer and a console here.
Wondering about whether to leave your mixer on or not? Read this article to find out what to do.